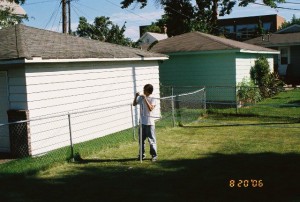 Well world today maybe the last time I have badminton. For say about 20 years we have had at least a few times a summer badminton. We would have one in May or early June to start the summer and then at least one around my B-day to end the summer. Last year we went to Cherokee Park a couple of time to play, by Mikey's memorial. Badminton was kinda our thing. Even at my college graduation we had badminton, croquet, food on two huge grills (we made kabobs for a couple hundred people), and a fire. It was at my parents and yes their yard is way bigger than mine.
Last night I was out shopping with my mom to pick up paper plates, some kind of plastic game for the little kids. Anyway we were talking and my mom said, "so this is the last badminton?" I said, "ya I think so" She then said, "good it's not the same" and I answered, "of course it's not the same, nothing is the same and never will be again, but that can't let that stop us from doing things" She responded, "I know, I just don't like it" Funny I don't think any of us like it, I sure know I don't.
My hope is that now that most of the kids have their own homes someone will take on this tradition but as Mikey would say to me your an optimistic/pessimist. I hope for the best but am always prepared for the worst. So we will just have to wait and see.
I miss Mikey everyday and sometimes when we do things like this (traditions), it's hard not too. He was here to help get the yard ready, taste the food and tell me how much he liked it, was mostly the winning team at badminton, would play with the little kids, talk to the adults, be happy to see everyone, and hugs us all.
I have talked in past posts about time and how we think that as time gets farther away from an event it lessens, as I have said I don't think thats true. I think it changes like the world changes. We become better at faking it. The old saying "fake it until you make it" can help get you through. It can help you to have a small amount of joy in your haze of sadness. It will help make others ok with how they have gone back to life, because we do have to go back to our lives. It will not stop the pain or even make it, at least for me, less of a whole in my heart but it can get you through a day.
I have had a bit of a hard time the past few months and soon as I get things straight, I'm hopeful it will be very soon. I will get to the mail that I promise people I would get too. You have been so supportive, patient, and allow me the time I need to get over one hurdle  at a time. I'm so Grateful!! alls I can say is THANK YOU!!!!! Love Kathy