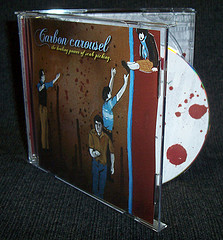 Carbon Carousel's debut album and their only full-length release. Carbon Carousel was Micheal Larsen, Casey O'Brien, Jeremy Ylvisaker and JT Bates. Artwork by Louis LaPierre.
Track listing:
1. start stopping.
2. always better sorry.
3. dummy.
4. seizure sweet.
5. blush.
6. 80Messageshoneytype.
7. if you need to be killed.
8. the taste of electricity.
9. atrophy.
People who bought this item also bought

Updating...