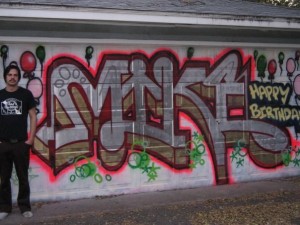 I try to walk my neighborhood a couple times a day, these days. It helps to work on motivating me a little. I walk barefoot to connect with the ground, grass and pavement a like. Today as I was out I was thinking about words, life, and how things are. I have gotten asked many times if I have regrets, guilt, sorries, would you do things different, and I usually answer yes and no.
The yes is of course we all would like to do something different, say something we didn't, take back something we said or did.  The no is if things were done differently then we wouldn't become or do the things we did. If I had done something differently Mikey wouldn't of been who he was. Now some may think Mikey was born to be who he was no matter what part the rest of us played. That two is yes and no.
Yes, I believe each of us is born to a purpose or reason and that never really changes. As I said once before when Mikey was just a toddler we were at a book store and my mom and I found a book that told about people's births. In this book the two things that stood out then and still now were he was going to be a vegetarian and that he would pass before 32. So when I read the vegetarian part out loud my mom and I both laughed because this little kid ate about every three hours and liked meat. Then when I came on the death I slammed the book shut and said that's enough of that I don't want to know any more. My mom picked it up and read some but I walked away so she couldn't tell me. We talked about it here and there over the years and then Mikey became vegetarian and I wondered what else was in it. But I can remember the store we were at, which I don't think exist any more B Dalton was the name. I know it's not at the mall we were at, it is not there I know that. Not the damn name of the book or author.
The no is I believe our environment plays apart in what we do also. Letting Mikey explore things he was interested in, standing by him, supporting him, teaching him, and protecting him. All gave him an environment to become who he was. It is both nature and nurture that makes up who we become. So Mikey was going to be something special I would tell him and others that starting from before he was born. Yes most, if not all, mom's talk to their babies while they are still in us.
I have more memories than any other word. I have many I have and will share, I have some I will keep just for me, some are our families, some are friends. They too will choose what and when to share or keep. I have reflects which are not good or bad just an out side look at things. Seeing all sides to what took place is sometime hard to look at. Even harder to understand.
Loss and strength two words that seem to be daily in my life now.  I hear a lot, sorry for your loss, you are so strong. I understand many think I'm doing better then they if they were in my shoes. I disagree I think some have done better with worse and others have done badly with less. Each of us has the ability to do what is necessary but having the tools that go with not all of us have. I don't have many tools but I'm learning new ones to help.
Life I believe is a wheel is has moved in the time it has taken to write this. It has moved to someone has died, been born, laughed, cried, kissed, hit, loved, hated, hugged, shared, learned, taught, craved, explored, and many more have turned. I don't feel I can change life it is what it is and will be. I can look at life as an adventure with all the ups and downs that an adventure holds. I can move with the wheel or against it, but the wheel has moved. So have all of us. Some have moved far in all ways, some have moved in sum way, some a little way, some are back peddling and want the wheel to go that way too, some just don't know the wheel moved, some don't care and some want it to go faster. There is nothing we can do with or against it has moved. Acknowledge it Accept it The world has moved on. But none of this doesn't mean we can't change that's the funny thing about all creatures the ability to change. Everything in the universe is always on the change.
Mikey was so smart on so many things. Many times in his music he has asked the tough questions: What would you do if you only had an hour left, would you spend it saying it's not enough or I asked like 20 questions and still wasn't sure, so I turn around and found my self in heaven or Will the children be alright without a proper guide, to all my loved one and followers at least I tried or Only the lonely resent angels for flying or Sometimes gun fire burns brighter than sun shine or I just hope he got to see the sun, one more time before. Now these aren't questions per se I'm just remembering thought provoking parts of songs.
Just things I pondered on my walk. Thanks for reading, thanks for sticking with me, thanks for sharing, thanks for supporting, thanks for loving each other, thanks for hugging, and don't forget to smile. Love Kathy