Hi world, I have been having an interesting end to the year. I have been a bit hard on myself for not getting things done I wanted. It seems like every year since Mikey has passed I feel I didn't do enough.  I wanted to get three music projects out and didn't, I wanted to get most of the play finished and didn't, I wanted to get the house rearranged and didn't finish, and I wanted to not be sad everyday and didn't. Not to speak of all the personal things I should get done. Oh well there is now another year to try to do all those things and more.
So this is about many things, one thing is I took a road trip this holiday season and it brought back many things about Mikey. Like the many road trips we took. We went to the Grand Canyon, up the North Shore, Disney World, Jay Cook State Park, Duluth, countless Scribble Jams, trips with Anthony (as you kids call him Tony Bell), Seattle, the Black Hills, Mt. Rushmore, and that's just a few I remember. One of the things that we always had was music and I took mine with. Yes I even played it for most of the drive. I drove with a friend to Florida. It took us 24 hrs and I drove most of it, like I enjoy. It made me think about one of the first times Mikey went on tour and was going to be gone for over a month. We went out to buy cd's for him to have on the drives and he bought me ones too. He was just such a great kid always thinking of others. So I listened to old music and I have to say it wasn't to bad, a little sad but not to bad. When in Florida I did a few things that we (Mikey and I) had done before, but the good and bad or yes and no to things was yes we were here but no they have moved on. Like I took my friend to Church Street Station (one of our favorite places) and it was still there but had been bought by some company and you can't even go in it. All that beautiful craftmens work, golden stair case, fountains, galleries, all changed. So things always move on no matter how much we wish it would just stand still for one moment.
Since Buck 65 is posting music picks I thought I would add a few I listened to on my trip.
Phil Collins     "In the air tonight"  http://www.youtube.com/watch?v=YkADj0TPrJA
Gary Wright   "Dreamweaver"   http://www.youtube.com/watch?v=-uri-9AM6_M
James Taylor    "Up on the Roof"  http://www.youtube.com/watch?v=sMt2Vh7otQ0
Elton John   "How wonderful life is"   http://www.youtube.com/watch?v=vMqGzC4NEpA
Moody Blues   "The story in your eyes"   http://www.youtube.com/watch?v=t-iJ47in9YQ
Then when I got home I started to more rooms around down stairs cuz I'm going to do some more work down there. I came across more of Mikey's things I didn't know were around. Like this box he made it hold some kind of equipment coved in this blue shag carpet. I remember when we had to get this it's in the garage on the walls as sound proofing stuff. He had this thought that it would be cool to put up different stripes of carpet on the walls for sound proofing instead of tearing up the walls to put something inside. We built a small stage type area in the garage. Next to my brothers race car. Which both are still in there and this spring I needed to do something about that. I spoke about the briefcases, more notebooks, Brady has been amazing and looking at them. We started scanning and tagging what there are so we can start to sort lyric from school work, or poetry, books parts, or just writings. I tagged a bit, he goes in detail and we more to another book. I have two feeling (yes and no, good or bad) on all this, one is I don't want to know what he wrote and on the other I want to know. He was so funny some of the things would amaze me and others would just infuriate me. My family is very dark humored and it's hard for others to understand. I even found the card from the guy who asked Mikey to come do a open mic stand up comedy. I never know what I'll find.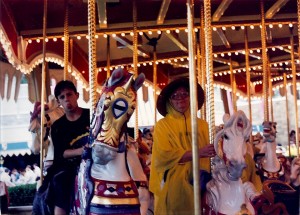 I did go to Sea World when in Florida, and when home I found this picture of Mikey and his grandma at Sea World when he was about 8yrs old. He and the horse have their heads tilted. I found some picture of Face Candy which I put on that site. I forget sometimes to post on there so they get them.
Well enjoy your day, I will get something done this year, hug everyone but ask those you don't know if it's ok first, catch up with friends, spend a few minutes in the fresh air be it hot or cold, and thank you for reading, loving and supporting me. Love Kathy