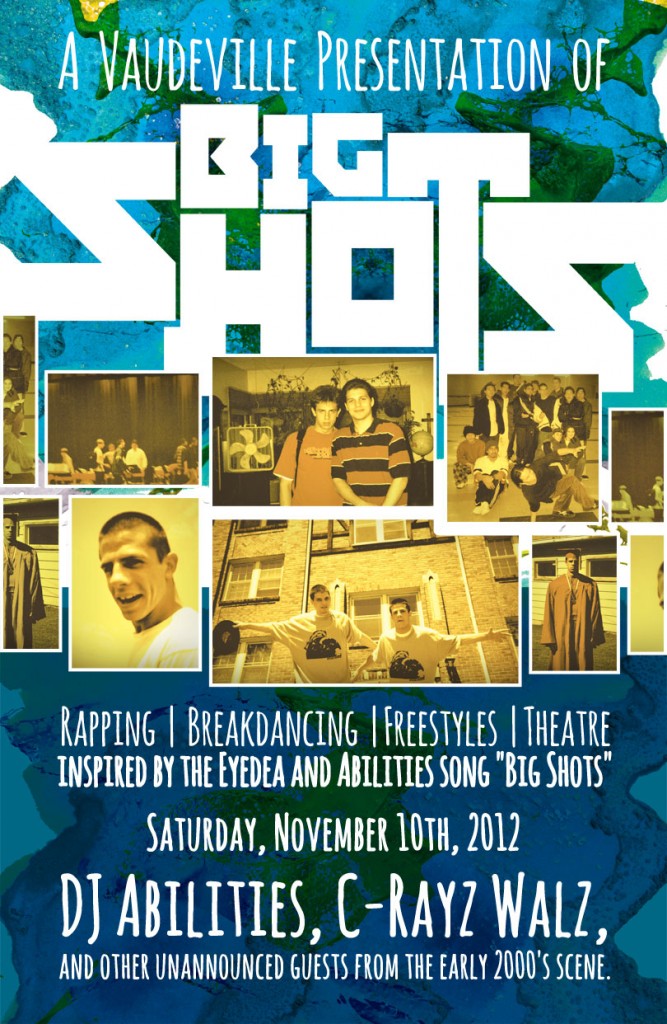 A Vaudeville Presentation of "Big Shots"
Rapping | Breakdancing | Freestyles | Theatre — All united by the common themes of hip-hop culture amongst high schoolers, and inspired by the Eyedea and Abilities song "Big Shots," an early, all-ages event held at Highland Park Senior High School, Mikey's alma mater and where he is an inductee in their alumni hall of fame.
Performances by: DJ Abilities, C-Rayz Walz and other unannounced guests from the early 2000's scene.
Saturday, November 10th, 2012
Highland Park Senior High School Auditorium
1015 South Snelling Avenue Saint Paul, MN 55116 (see map below)
All-Ages (children under five free with adult)
3:00 PM
$20 advance/day of show
Buy tickets here
-RSVP on Facebook.
–Download the flyer/poster images.
-Thank you for any help with getting the word out on this special event.
-For press inquiries, send us an email.
Donate to help make this event happen, or visit our store. Thank you for your support.
Flyer and poster designed by Brandon Philbrick.
Sadistik has set up donations for his song "Micheal"