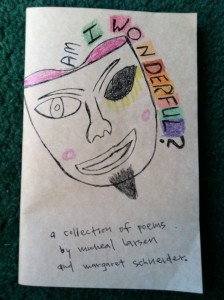 Am I Wonderful? is an out of print poetry book by Micheal "Eyedea" Larsen; it was the second in a series of five that he was working on with his grandma, Margaret Schneider.
This is one of the rarest copies of Am I Wonderful? It was donated by a fan who purchased it from Micheal at the Pigeon John show at the 7th Street Entry on October 15th, 2010. Only numbers 101-125 were actually signed by Larsen. This is number 113/125, and it is also signed by Margaret Schneider, Micheal's grandma. View the auction here.
Rachel Sell, a longtime friend of Mikey's painted a picture of him as inspired by the video for "Smile." We put up 20 prints a few weeks ago and still have a few left. The dimensions of the prints are 17 3/4 by 14, and each is hand numbered and signed on the reverse by Rachel Sell and Kathy Averill. They will ship rolled in a poster tube, and will ship internationally at the price listed.
All proceeds from the sale of the poetry book and the prints go toward the bench dedication ceremony in Cherokee Park (St. Paul, MN) on October 16th, 2011. The dedication is free, open to the public, and all ages. Am I Wonderful?, Autographed, By the Throat, E&A, eBay, Eyedea, Limited, Margaret Schneider, Micheal Larsen, Out of Print, Poetry, Rachel Sell, Rare, Rhymesayers, Signed, Smile